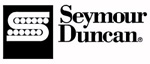 The Seymour Duncan SSL-5T Tapped Custom Staggered Pickup is the dual output Seymourized version of the SSL-1 pickup. It has distinct vintage tone combined with a stronger magnetic field and custom coil for higher output, more sustain, and great harmonics. Perfect for those looking for a Gilmour tone.
DC Resistance: Full: 12.9k
Resonant Peak: 4.90KHz.

DC Resistance: Tapped: 6.60k
Resonant Peak: 6.00KHz.
$99.00 Each