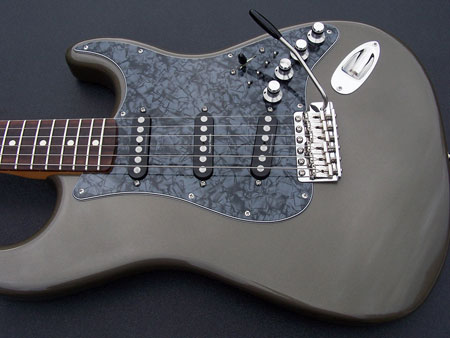 Ever wonder why a Strat® that has 3 pickups but yet it only has two tone controls? What gives? Well, usually it is the bridge pickup that gives up its tone control, that's standard Fender® wiring that's been around since the Strat's inception. Sure there are few simple modifications to allow two pickups to share a tone control or you can even change which two pickups use the two tone controls, but bottom line is two pickups have to either share a tone control or one goes without...
So we've created a unique solution that gives you individual tone controls for each pickup along with a master volume control. Now you can adjust the tone separately for each pickup exactly as you see fit for your particular needs and playing style.
With this unique custom built pickguard assembly we've incorporated our very own implementation of 4 recessed mini-toggle switches. By utilizing Seymour Duncan's tapped pickup sets, three of these switches toggle each of the three pickups between a tapped output level (lower output) or full output, each pickup has it's own switch for its output level. This gives you a wide range of tonal versatility, it's like having two completely different sets of pickups in one guitar. The fourth switch is for activating the neck pickup in conjunction with the bridge pickup or for activating all 3 pickups at once. You'll still have the typical 5-way selector switch for your normal pickup selections, it's just that with each pickup being tapped and selectable is what gives you the pickup selection versatility. There are a total of 26 different and unique pickup selections to choose from.
Complete guitar shown for illustrations purposes only, item purchase includes a complete and fully loaded pickguard assembly only.
Pickup set selection options are from the tapped versions that Seymour Duncan offers; SSL-3, SSL-4 and SSL-5. The middle pickup will be Rw/Rp (reverse wound, reverse polarity) for hum cancelling when the 5-way selector switch is in positions 2 and 4. The SSL-3 and the SSL-4 have flat pole pieces and the SSL-5 has staggered height pole pieces.
Here is a link to an article written in the official Seymour Duncan's blog about coil tapping or tapped pickups https://www.seymourduncan.com/blog/tips-and-tricks/what-is-coil-tapping/.
Each tone control potentiometer has it's own polyester film Orange Drop tone capacitor so you can select which value of capacitor you feel is best for each pickup position. Here is a link to a very informative video that explains How Tone Capacitors Work and is well worth watching to fully understand how tone capacitors effect your tone and to help you make an informed decision for the tone capacitor selection in your pickguard assembly.
Control knobs are custom manufactured machined aluminum as depicted in the photographs below. The pointer on the new production aluminum knobs now has an arrow in place of the original design dot as shown below.
Potentiometers are manufactured by Bourns and will have a 1/4" solid shaft. These potentiometers have the smaller 17mm case diameter which is required for this particular 4 control design due to space constraints.
If you select the SSL-4 (Quarter Pound) pickups they will not have plastic pickup covers installed, these pickup only come as depicted in the photographs below and only in black and will have "Seymour Duncan" imprinted on the top. Due to the larger pole pieces (1/4") plastic pickup covers are not available for the SSL-4 pickup sets.
Accessory colors are available in White, Parchment, Aged White and Black. The accessories will consist of the pickup covers and switch tip. If you select the SSL-4 pickups then the pickups will not accept the plastic covers and will be black as described above and the accessory color will be selected for color of the selector switch tip.
We offer 24 different pickguards to choose from in either the standard 11 hole or vintage 8 hole mounting pattern. Below is a chart of all the available pickguard colors and patterns. Click on any of the small images below to display a representative image of the pickguard and it's edge characteristic (ply or layers).
Complete guitar shown for illustrations purposes only, product availability will be for the complete and fully loaded pickguard assemblies that will be ready to drop into your favorite Strat.
If you have any questions about this pickguard assembly send us an email.