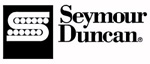 The Seymour Duncan SSL-5T Tapped Custom Staggered Rw/Rp Pickup is not a standard pickup offering, we special requested Seymour Duncan to wind this for us, it is not a custom shop pickup, what it is known as is a "Shop Floor Custom". The dual output Seymourized version of the SSL-1 pickup. It has distinct vintage tone combined with a stronger magnetic field and custom coil for the SSL-5 higher output as well, more sustain, and great harmonics.
This version is Reverse Wound / Reverse Polarity which is intended to installed in the middle position for hum cancelling capabilities on a Strat® when the 5-way switch in in positions 2 and 4.
DC Resistance: Full: 12.9k.
Resonant Peak: 4.90 KHz.

DC Resistance: Tapped: 6.60k.
Resonant Peak: 6.00 KHz.
$115.00 Each