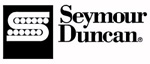 More than twice the power of a traditional single-coil. The result is a fat, punchy sound; similar to a P-90. It's clean at lower volumes and screamin' when cranked. The hand polished, quarter-inch diameter magnets are matched with a powerful coil winding to deliver great sustain, making this one of our most popular single-coil pickups. Does not use a cover.
This pickup is tapped for two output levels; high-output as described above and lower output similar to a vintage Strat® with warmth and fullness.
DC Resistance: Full 13.3k.
Resonant Peak: 4.8 KHz.

DC Resistance: Tapped 6.9k.
Resonant Peak: 5.5 KHz.
$89.00 Each