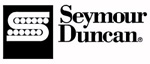 The SSL-3 Rw/Rp is the next step up from the SSL-5 with more sustain, fullness, and output - and less treble response. This is Seymour Duncan's hottest traditional single coil Strat® pickup. Recommended for country, pop, blues, classic rock and heavy rock. The raised flat Alnico 5 pole pieces are taller for a stronger and deeper magnetic field. Extra coil windings provide extra power making this pickup great for heavier music styles. White cover included.
For heavier and brighter-toned instruments with ash or alder bodies. Works well with maple or rosewood fingerboards.
This pickup is Reverse Wound and Reverse Polarity for installation in the middle pickup position of a Strat to provide hum cancelling in selector switch positions 2 and 4.
DC Resistance: 16.40k
Resonant Peak: 4.40KHz.
$89.00 Each