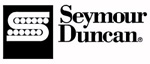 The Seymour Duncan SSL-3 is a high output true single-coil pickup for warm instruments. Recommended for country, pop, blues, classic rock and heavy rock.
The SSL-3 is the next step up from the SSL-5 with more sustain, fullness, and output - and less treble response. The raised flat Alnico 5 pole pieces are taller for a stronger and deeper magnetic field. Extra coil windings provide extra power making this pickup great for heavier music styles. White cover included.
Many players use an SSL-3 in the bridge position with vintage output pickups, like SSL-2's, in the neck and middle for tonal versatility.
For heavier and brighter-toned instruments with ash or alder bodies. Works well with maple or rosewood fingerboards.
Also available in a reverse wound, reverse polarity (RW/RP) middle pickups for hum canceling in positions "2" and "4" on the five-way switch. Tapped version is also available for dual output levels.
DC Resistance: 16.40k - Resonant Peak: 4.40KHz.