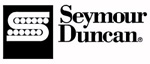 The Seymour Duncan SSL-1 Vintage Staggered Pickup is an exact replica of the original Alnico V Stratocaster® guitar pickups. The same type of magnet wire is used, as well as the same number of coil windings. The staggered rod magnets are hand-ground, then aged by the exclusive Dun-Aged process. Lacquered bobbins and cloth-braid hookup wire complete the vintage look. Every detail is included to duplicate the bell-like tone and the high-end bite that made the vintage Strat® pickups famous. Perfect for that vintage Gilmour tone.
Includes 2 nickel plated round head Phillips mounting screws and 2 rubber surgical tubing height adjustment pieces.
The SSL-1 now comes with a white "Seymour Duncan" logo pickup cover.
$79.00 Each