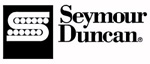 Classic moderate output Humbucker. Especially popular in neck position. Don't let the name fool you; it's not only great for jazz, but also country, blues, funk, classic rock and heavy rock.
Provides an articulate and clear tone. Great for fast runs. The brighter tone has slightly less output and is a good match with most bridge pickups. When distorted, the tone is full and bright. Smooth sustain. Compared to the SH-1 '59 Model, the Jazz has slightly less output and a more detailed treble response. Comes with four-conductor hookup cable.
Often a Jazz neck is paired with an TB-4 JB (Seymour's favorite combination)
DC Resistance: 7.72k - Resonant Peak: 8.00KHz.