This 6 In-Line set of Kluson Double Row tuning machines are period correct for 1965 - 1969 production Fender Strat's with the correct housing and button styles.
These are six individual tuners (not on a plate) just like the originals but with the improved 15:1 ratio. Double Row "Kluson Deluxe" logo on each tuner case. Typically used on right-handed instruments. This set comes complete with 6 in line tuners, 0.350" O.D. vintage bushings with 1/4 inch I.D. and 7 #2 mounting screws. Be sure to measure your thru-holes in your head stock for correct bushing size, these may be too small, you don't have to use them if you already have ones installed in your neck, but you may consider slightly larger ones offered by Fender® 099-4946-000.
The mounting screws included with this set are #2 size wood screws and most Strat's use a #3, so make sure of your mounting screws/hole size before ordering, and if needed we have the #3 mounting screws available at item # 001-1357-049.
Price: $42.00 Per Set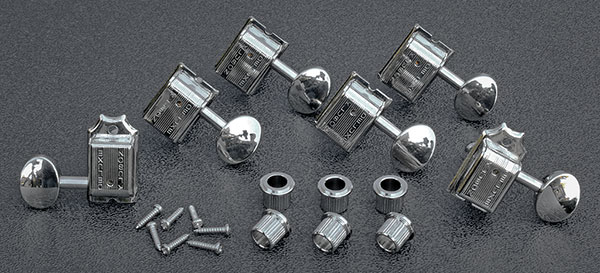 Click on above image for larger version