Pure Vintage Stratocaster® Tremolo Assembly
Many of Fender's Pure Vintage bridges are crafted where possible on the same tooling and machinery as our original-era Fender® parts. Some of this original tooling has been diligently rebuilt to achieve the crisp clean construction of original vintage Fender® products, though many Pure Vintage parts still retrofit several of our modern instruments and amplifiers. Whether you are personalizing, modifying or restoring, there is no better way to maintain the proud heritage and period-correct accuracy of your classic Fender® instrument or amp.
Includes the following:
6 Philips round head mounting screws.
String tree with 2 spacers, nylon and metal.
Tremolo claw and mounting screws.
10-32 Screw-in tremolo arm.
Completely retooled to vintage specs for crisp, clean look and feel.
"FENDER PAT. PEND." stamped saddles.

Full size steel tremolo block.

Introduced on the 1954 Stratocaster® guitar.

Used on American Vintage '54, '56, '59, and '65 Stratocaster® guitars.

Fits most vintage and modern Stratocaster® guitars with vintage (2-7/32") bridge mounting spacing and vintage six-screw mounting design.
String spacing: 2-7/32"
String ball-end depth: 0.275".
This is a right handed bridge assembly.
Price: $144.00 Each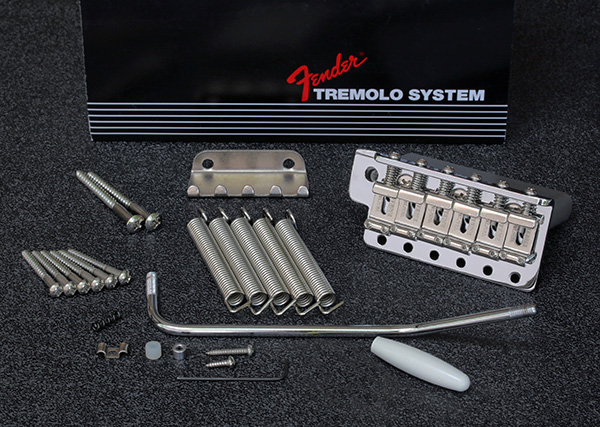 Close-up detail of the "FENDER PAT. PEND." stamped steel saddles.

2.226"

Not compatible with any thin bodied (1-1/2") Strat®, such as some Squier's.