Fender® / Gotoh SD91MG original vintage style locking tuning keys. Nickel plated. These tuners have the same visual appearance of typical vintage Fender® tuners but have the unique characteristic of having the ability of locking the strings in the tuning posts to help stabilize tuning. Includes press-in bushings, 0.364" OD, 0.241" ID. Right handed. 15:1 tuning ratio. By Gotoh, 6 inline style.
Price: $59.00 Per Set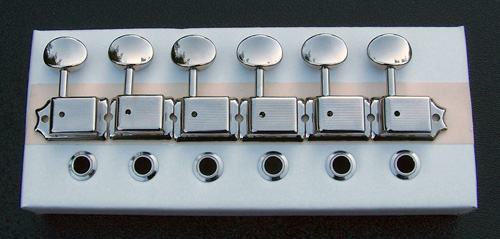 IMPORTANT PACKAGING NOTE
As of April 14, 2017 we receive these tuner sets from Fender in bulk packaging as they are typically used by Fender's production facility or Fender's authorized service centers. By purchasing this tuner set you will receive each tuning key individually packaged, tuner bushings individually packaged and the Gotoh instructions also individually packaged. There is nothing different about these sets than a typical retail packaged set.