Genuine Fender® American vintage Stratocaster® LEFT HANDED tremolo block as used on American vintage and American vintage re-issue series Strat's. Cold rolled steel for authentic Strat® tone. Fits vintage 2-7/32" E to E string spacing. Accepts 10-32 threaded tremolo arm.
NOTE: These tremolo blocks come to us from Fender "bulk" packaged. They all come stacked against one another in one box, banging, rubbing and scraping against each another, and most of them will likely have some scuffing / chipping of the painted surface. They are brand new from Fender but may look a bit less new in their painted finish due to how they package them for shipment, but this does not change the fact these are brand new and will function/operate normally. If you feel this may present a problem in your acceptance, then please do not order. We will not accept any exchange due to this described characteristic, there is nothing that can be done about it, they are all this way, but does not change the function of the part. See photograph below as to how we receive these tremolo blocks from Fender so you can understand why the painted surface will be scuffed and imperfect, this is how we have to deal with these parts from Fender. Any authorized Fender dealer that has these parts will be in the same condition.
Plain Packaged.
Dimensions / Specifications:
Width: 2.989"
Height: 1.675"
Thickness: 0.505"
Price: $43.00 Each
If you don't have top plate mounting screws we have them at 268-758-3071.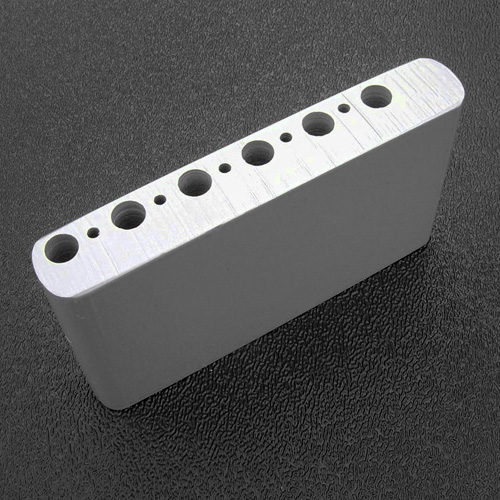 This is how we receive these tremolo blocks from Fender, no padding or packaging material separating each tremolo block from one another, this is why they will each have an imperfect painted surface. This does not change the fact that they are brand new and does not change the normal function and operation, besides you won't ever see them once they're installed in your Strat.