We're Dedicated To The Most

Iconic Electric Guitar In The World, The Fender

®

Stratocaster

®

We stock all the Stratocaster® parts and accessories you'll need for repairing, restoring or building your Strat®. Top brand names like Fender®, Seymour Duncan, Kluson, Gotoh, CTS, Switchcraft and CRL.
Since 2009 we've specialized in building the most authentic Gilmour Black Strat® inspired pickguard assembly you'll find anywhere... To complement this project accurately, we are fabricating the beautiful black 1 ply 0.120" Acrylic pickguard with the rounded and polished edge along with the Seymour Duncan Custom Shop hand scatter-wound SSL-1C DG bridge pickups. Visit our Gilmour Black Strat® Inspired Parts page to view all of our parts and accessories that'll assist you in completing your Gilmour Black Strat® inspired build project correctly.
If you're building a Gilmour Black Strat® inspired guitar and you're looking for the most authentic and accurately reproduced loaded pickguard assembly you can find? Then your search is over, we're custom building complete Gilmour style Black Strat® pickguard assemblies that are the most authentic of all replicas being built. You'll appreciate the effort we have put into accurately reproducing one of the most popular signature series custom Strat® projects.
For full details check out our Black Strat® pickguard assembly page.
Complete Loaded Strat

®

Pickguard Assemblies
Are you looking to change the tone of your Strat®? We can custom build you a loaded Strat® pickguard assembly with the pickup set of your choice. We can build you one with any of the genuine Fender® pickup sets as well as Seymour Duncan pickup sets and a few custom designs that only we offer. Check out all of our complete Strat® pickguard assemblies here.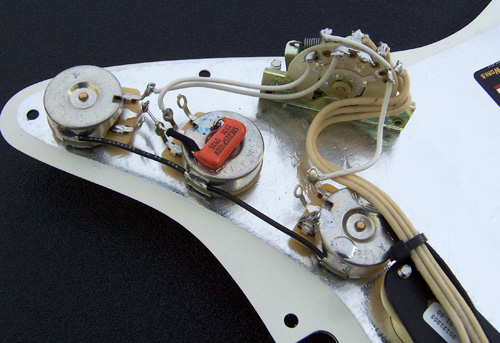 Genuine Fender® Stratocaster® Replacement Necks
Genuine Fender® Stratocaster® Necks
We stock an assortment of brand new genuine Fender® Stratocaster® replacement necks. For full details on each of the various models of Strat® necks we offer visit our necks page.
Something Special For The Serious Gilmour Black Strat® Inspired Builder
Seymour Duncan Custom Shop Hand Scatter-Wound SSL-1C DG Single Coil Pickup
We have this unique pickup that a lot of you serious Gilmour Black Strat® inspired builders have sought after. These are original, authentic Seymour Duncan custom shop's hand scatter-wound pickups. These pickups are available separately or installed in our Complete Black Strat® Pickguard Assemblies. We also have a Reverse Wind / Reverse Polarity version of this very same pickup to give you a couple pickup selections of hum cancelling.
We custom manufacture stainless steel tremolo arms for the Fender Strat® in both the 10-32 and metric 5mm screw-in styles, we also manufacture the American Deluxe, Elite and Pro Strat® pop-in tremolo arms as well as the rare '83-'84 Elite Strat® Freeflyte pop-in tremolo arms. A popular tremolo arm is the shortened 4-¼" Gilmour length. We also offer the standard 6" length and an intermediate 5-¼" length. Each of our Strat® tremolo arms are manufactured by hand, they are not mass produced. Each Strat® tremolo arm is manufactured one at a time by hand to a unique set of specifications for each model of Strat® it is created for.