Custom designed and manufactured stainless steel tremolo arms for Strat.
We custom manufacture our tremolo arms out of Precision Centerless Ground 303 Stainless Steel for a fine finish, strength and durability.
Available In Three Lengths:
Short 4

¼

" Gilmour Style Length.
Intermediate 5

¼

" Length.
Standard 6" Length.
Manufactured With Three Different Attachment Threading's (10-32, 5mm or 6mm):
10-32 - Any American Vintage or Vintage Re-Issue Strat.
10-32 - American Standard Strat w/2 Point Pivot Tremolo Bridge.
Metric 5mm - Mexican Strat. Some of the vintage re-issue Mexican Strat's like the "Classic '50s, '60s & '70s Strat's use the 10-32 threaded tremolo arm, so be sure to verify what your tremolo arm threading is before ordering.
Metric 5mm - Japanese Strat's.
Metric 5mm - Some Squier Strat's. Squier calls this "Smaller Thread".
Metric 6mm - Some Squier Strat's. Squier calls this "Large Thread".
Any guitar that utilizes any of the following attachment threading for their tremolo arm: UNF 10-32, 5mm x .8 or 6mm x 1.0.
Our tremolo arms have the standard 9/16" length mounting threads for Fender tremolo blocks. They are threaded with UNF 10-32, Metric 5mm or Metric 6mm threads for the mounting attachment in the tremolo block. The tip end of the tremolo arm is threaded to accept a standard plastic tip with the exception of the 6mm Squier arm, see photograph on the right.
Our metric 6mm Squier Strat tremolo arms are manufactured similar to the American Deluxe Strat tremolo arms where they do not have a plastic tip, the tip end is simply rounded and polished smooth, so if you select the 6mm tremolo arm in the Attachment Threading option below you, will need to select the "No Plastic Tip" in the Tip Color option. If you erroneously select a tip color for a 6mm tremolo arm you will still NOT receive one since they are not applicable for the 6mm design. You cannot select this "No Plastic Tip" option for any of the other Attachment Threading tremolo arms except for the Metric 6mm.
As depicted to the right, we offer six different colored plastic tips to choose from. The choices are black, cream, vintage cream, mint green, parchment or white.
You CANNOT select the "No Plastic Tip" for the Tip Color option for any other tremolo arm except the 6mm for the Squier Strat's. All of these tremolo arm are regular production, if you want something special, send us an email, we can custom manufacture you a tremolo arm to your design. Pricing starts at $27.00 and goes up from there depending on design and any machining that may be required.
These "screw-in" tremolo arms will NOT fit a guitar that utilizes a push-in tremolo arm such as the Deluxe Strat. If you are looking for the push-in tremolo arms they are available here.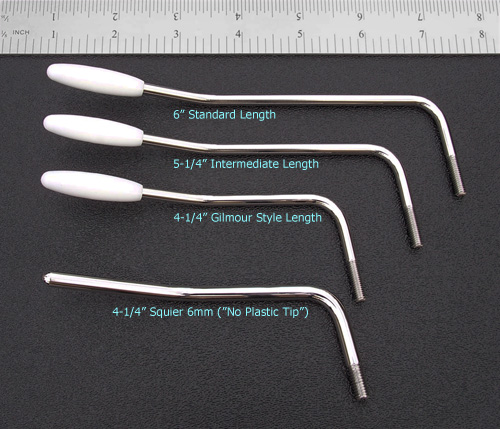 Above you'll notice the Squier 6mm tremolo arms WILL NOT have a plastic tip, they are manufactured as depicted above with the rounded and polished tip end.
Plastic tip color selections are only applicable to the 10-32 and metric 5mm tremolo arms. The metric 6mm tremolo arms do not use a plastic tip.