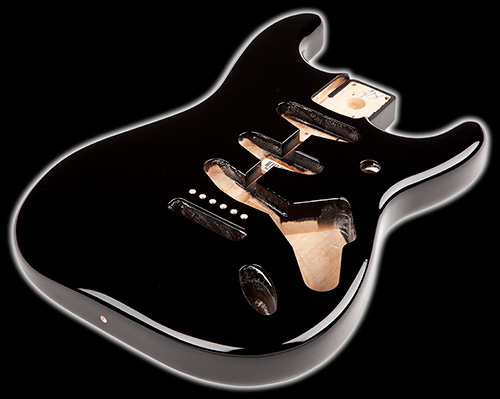 Are you looking to build your own Gilmour style black Strat? Then this is the perfect body to get your project started. Fact is, we have every single part you need to build your complete Black Strat®.
Genuine Fender Stratocaster® alder body routed for a traditional SSS pickup configuration and pre-drilled with six screw holes for vintage-style bridge with wide 2-7/32" mounting. Durable gloss-polyester finish. Crafted at Fender's Ensenada, Mexico, manufacturing facility.
This replacement body is for a Fender or Squier® by Fender guitar.

Specifications:
Body Material: Alder
Body Finish: Gloss Polyester
Routing: SSS
No holes drilled for pickguard mounting, output jack plate mounting or back plate mounting.
Bridge Mount Design: Vintage-Style 6-Screw Synchronized Tremolo (2-7/32" True vintage mounting spacing)
Neck Pocket: 4-Bolt Mount
Note: Bridge mounting spacing is pre-drilled to 2-7/32" to only accept the following replacement bridge assembly designs:
Vintage-Style Strat® Bridge Assembly

American Vintage Series Stratocaster® Bridge Assembly
Price: $179.99 (USA Shipments Only)