Genuine Fender® American Vintage Stratocaster® Tremolo Bridge Assembly System in Chrome finish. Complete assembly has all of the vintage appointments for great tone and the correct look. Vintage/USA specification 2-7/32" string spacing. Original 6-point attachment with center-to-center of outside mounting holes spacing of 2-7/32". All mounting hardware is included.
Features:
"FENDER" Stamped Steel Saddles
Hardened Steel Tremolo Block
Chrome Top Plate
Intonation Screws
6 Intonation Springs (4 Long, 2 Short)
String Tree Assembly
Tremolo Arm w/White Plastic Tip
Tremolo Arm Tension Spring
6 Bridge Mounting Screws
5 Tremolo Springs
Tremolo Claw
2 Tremolo Claw Mounting Screws
0.050" Saddle Height Adjusting Wrench
String Ball-End Depth: 0.250"
This is a right handed bridge assembly.
Price: $106.00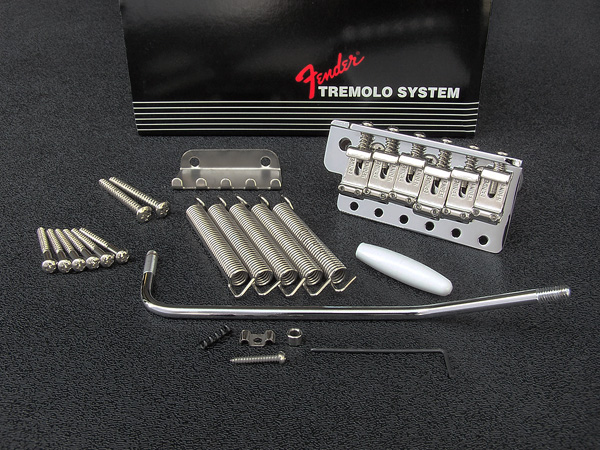 Not compatible with any thin bodied (1-1/2") Squier Strat®.