Dedicated To The World's Most Popular Electric Guitar, The Fender

®

Stratocaster

®

We stock all the high quality parts and accessories you'll need for repairing, restoring or building your Strat®. Brand names like Fender®, Seymour Duncan, Kluson, Wilkinson, Gotoh, CTS, Switchcraft, CRL and more...
Currently we're specializing in a Gilmour style Black Strat® by custom building authentic replica Black Strat® pickguard assemblies. To complement this project accurately, we are manufacturing the unique Black 1 Ply 0.120" Acrylic pickguard with the Rounded and Polished Edge which is like Gilmour's original and we also have the Seymour Duncan Custom Shop hand scatter-wound SSL-1C DG bridge pickup. Visit our Black Strat® Parts page to view all of our parts and accessories that'll assist you in completing your Black Strat® project today.
Custom Manufactured / Customized Pickguards For The New 2016 Fender® American Elite Strat®
We just introduced new pickguard color / style options for your 2016 Fender® American Elite Strat®. No longer will you have to be constrained to the Mint Green or Tortoise Shell pickguard that came with your Elite Strat®. Due to the unique design changes and requirements of the pickguard for the Elite Strat® it prevents you from using a normal pickguard. We are able to custom manufacture one of our Black or White Acrylic 1 Ply 0.120" pickguards with the Rounded and Polished Edge or customize any of the genuine Fender® pickguards to better suit your color theme needs of your Elite Strat®. For full details on the SSS version click here, for the HSS version click here.
Genuine Fender® Stratocaster® Replacement Necks
Genuine Fender® Stratocaster® Replacement Necks
We are now stocking brand new genuine Fender® Stratocaster® replacement necks. For full details on each of the various models of Strat® necks we offer visit our necks page.
If you're building a Gilmour style Black Strat® and you're looking for the most authentic and accurately reproduced complete pickguard assembly you can find? Then your search is over, we're custom manufacturing complete Gilmour style Black Strat® pickguard assemblies that are the most authentic of all replicas being built. You'll appreciate the effort we have put into accurately reproducing one of the most popular signature series custom Strat® projects.
For full details check out our Black Strat® pickguard assembly page.
Free Shipping On All MXR Pedals (USA Only)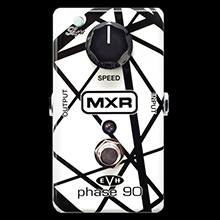 MXR EVH 35'th Anniversary Special Edition Phase 90
We now have a limited supply of the MXR EVH 35'th Anniversary Special Edition Phase 90..
In 2013 Jim Dunlop celebrated 35 years since the debut of Eddie Van Halen with the limited edition 35th Anniversary Series of EVH signature effects featuring limited edition finishes based on his legendary "Black and White" and "Frankenstein" guitars. With premium quality high gloss paints, the result is a collection of richly finished pedals that are as ready for the showroom floor as they are for the road.
Something Special For The Serious Gilmour Style Black Strat® Builder
The Seymour Duncan Custom Shop SSL-1C DG Single Coil Pickup
We have this unique pickup that a lot of you serious Gilmour style Black Strat® builders have sought after. These are original, authentic Seymour Duncan custom shop's hand scatter-wound pickups. These pickups are available separately or installed in our Complete Black Strat® Pickguard Assemblies. We also have a Reverse Polarity version of this very same pickup to give you a couple pickup selections of hum cancelling.
We custom manufacture stainless steel tremolo arms for the Fender Strat® or any guitar that accepts a 10-32 or 5mm thread-in tremolo arm, we also manufacture the American Deluxe Strat® push-in tremolo arms as well as the elusive Elite Strat® Freeflyte push-in tremolo arms. Our most popular tremolo arm is the short 4-¼" Gilmour style length. We also offer the standard 6" length and an intermediate 5-¼" length. Each of our tremolo arms are manufactured by hand, they are not mass produced. We may use a lathe, drill press, grinder, buffer and a custom rod bender to produce our various models of tremolo arms, but each tremolo arm is manufactured one at a time by hand to a unique set of specifications for each style and model of tremolo arm.